Welcome to District Apartments Fitzroy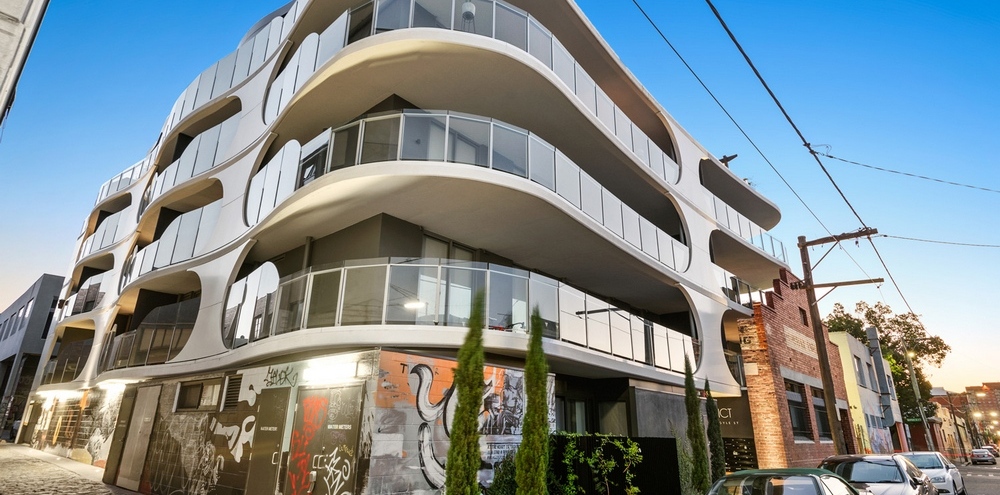 Guest Information
We are delighted to have you stay with us at District. We hope our accommodation offers everything you need and more to have a great stay. Our complex is located perfectly between Brunswick Street and Smith Street where you will find an array of cafes, bars, restaurants and unique retail stores.
All guests are treated to fully equipped apartments, including complete kitchen, european laundry, complimentary car parking. Please do not hesitate to let our reception team know if we can assist in any way to make your stay more enjoyable.
We wish you a fun filled and enjoyable stay here at District Fitzroy.
CHECK-IN & CHECK-OUT INFORMATION
Check in time is 2.00pm.
Check out time is 10.00am.
When it comes time for you to depart, we kindly ask you to leave your room key on the kitchen bench and lock the door on your way out. You can exit the building without your key. If you have a car park, you will need to head down to the car park basement. Remove your car from the stacker and close the gate. When your car is at the base of the car park ramp, press the left button on the small remote to open the gate. Behind you, mounted on the wall, you will see the key drop box marked with place keys here - please put your apartment keys in there so we can collect them. Please inform Guest Reception if you are scheduled for an early departure or should you require assistance with your luggage. Advance notice is appreciated. Please note that late check out requests cannot be guaranteed and should always be confirmed the day prior to departure. Please refer to Guest Reception for the current Late Check Out Fee schedule.
CONDITION OF STAY
All guests have the right to a peaceful and enjoyable stay. Any guest found disrupting other guests within our property, engaging in acts of vandalism, property damage, dangerous, antisocial, unruly and/or illegal behaviour, Or any guests breaching Terms & Conditions will be terminated from District Fitzroy. NO refund will be given for shortened lengths of stay.The guest will be liable for payment of all costs associated with repair or replacement of any items or damage within the apartment or common areas.
Adults are responsible for their children and their actions at all times. As District Fitzroy has a mix of owner occupiers and short stay guests, we kindly ask that you be mindful of noise after 9pm each night so that all guests/residents can have a pleasant evening! If someone else in the building is being disruptive, please contact us on 03 9487 7498 at any time (our night team is on call)so we can attend to the issue. We have zero tolerance with parties, if the manager is called, you may be evicted at any time and the security bond will be retained.
HOUSEKEEPING
If you are staying with us 7 nights or more, you will receive a complimentary mid-week service through your stay. We provide you with a starter pack of toiletries, dishwashing liquid & dishwasher tablets, if you require more, there is a Coles Supermarket just near the corner of Johnston Street and Brunswick Street.
Rubbish
Our rubbish bins are located on the ground floor. Next to apartment G02 is another door which you will need to use your apartment door key to unlock. Around from the lockers and before the car park, you will see a couple of stairs and the doors are marked with a bin room. There are both general waste and recycling bins.
Smoking
Our property is 100% smoke-free. If there is evidence found of smoking in the room or on the balcony, you will be charged a fee of $200.00.
EMERGENCY SERVICES
For any after-hours related issues please call the office number 03 9487 7498 selecting option 8 which will get diverted to our after-hours service to who will contact our night manager.
If you are facing an EMERGENCY dial 000.
GUEST RECEPTION
District Fitzroy is a self check-in hotel, however, our reception which is located at District South Yarra is open from 7:00 am - 9:00 pm. Please contact Reception if you would like assistance with any special requests.
INTERNET
Network: District Fitzroy
Wireless internet is available for ALL devices. The service provided is complimentary. If you have any issues, please contact our reception on 03 9487 7498.
AMENITIES & SERVICING
A complimentary mid-stay service clean and linen change is provided for stays of 7 nights or more. This service encompasses a full linen change with beds made, fresh towels, the resupply of toiletries and removal of rubbish. Should you require such a service or any additional housekeeping, this can be organised through Reception for an additional fee.Extra Service - One bedroom $35 & Two bedroom $45 & Three bedroom $60 Extra Full Clean Charges - One Bedroom $45 & Two Bedroom $75.00 & Three Bedroom $90.00.
BROKEN OR DAMAGED EQUIPMENT
If you encounter any faulty equipment during your stay we would appreciate you advising Reception. This would allow us to rectify the problem promptly thereby avoiding disappointing other guests. If for some reason you are dissatisfied about equipment or services within the apartment please do not hesitate to inform us. This feedback allows us to constantly improve our services.
FITZROY
A lively suburb with a bohemian reputation, Fitzroys eclectic bars and restaurants are popular with students, weekenders and young professionals. Street art covers the narrow backstreets, where small galleries sit alongside corner pubs and terrace houses. Brunswick Street & Smith Street are trendy retail and nightlife strips while Gertrude Street is known for its design and art-supply stores, wine bars and buzzy eateries.
LOCAL EATERIES & BARS
Babka
358 Brunswick St, Fitzroy, 03 9416 0091
Babka is known for a long standing institution of Fitzroy whose baked breads and pastries, and not-your-usual breakfast and brunch offerings inspired by Eastern Europe command an ever growing queue.
Atomica
268 Brunswick St, Fitzroy, 03 9417 4255
Renowned for blending the perfect roast, Atomica is a mecca for coffee lovers looking for their caffeine high. Cakes and pastries are made inhouse and are the perfect accompaniment to a smooth flat white.
Vegie Bar
380 Brunswick St, Fitzroy, 03 9417 6935
Specialising in organic, vegan and gluten-free meals, Veggie Bar offers healthy food in generous servings with a price range that doesn't break the bank. Serving food so tasty that even hardened meat eaters will be impressed.
Bon Ap
193 Brunswick Street, Fitzroy, 03 9415 9450
A great French Bistro, you must try the mussels (with a serve of fries of course) this is an amazing dish!
Nomada
412A Brunswick St, Fitzroy, 03 9416 4102
Nomada is a collaboration between five hospitality veterans: chef Jesse McTavish (The Kettle Black; another Jesse, this one Gerner (chef and owner at Bomba, Anada and Green Park); Michael Burr (also of Bomba); Greg McFarland (ex-chef at The Kettle Black); and Shane Barrett (Samuel Pepys). A MUST.
Amarillo
149 Brunswick Street, Fitzroy, 03 9415 9367
New, Great cocktails (Gin Martini is a fave of mine) Food is sensational. Just the place for nibbles and drinks.
Napier Hotel
210 Napier St, Fitzroy, 03 9419 4240
The Napier is a great local pub with a laid back atmosphere, excellent food and an outdoor seating area. The bogan burger has a reputation because of its size, but the real winner here is the parma with smoked kangaroo.
Marios
303 Brunswick St, Fitzroy, 03 9417 3343
20 years old, with white tablecloths and old fashioned waiters, Marios is still serving good Italian-Australian cuisine and satisfying coffee.
Marquis of Lorne
411 George Street, Fitzroy, 03 9417 5001
The Marquis of Lorne has sat on the corner of George and Kerr Streets for more than 150 years
The three-level hotel was given a good spit and polish, so it retains its classic pub feel. It is light inside with a sunny upstairs rooftop.The menu is available on all three floors and includes bar food such as potato cakes, Pacific oysters and grilled octopus as well as counter meals such as chicken schnitzel, a 250-gram scotch fillet and a cheeseburger. Wooden tables still sit out the front for a knock-off pot in the sun, and theres even a TV screen in one corner playing the footy sometimes.
Marion
53 Gertrude Street, Fitzro, 03 9419 6262
The most impressive and comprehensive wine list in the area, its the sort of place where you might stop in for a glass but cant help staying for a bottle.The food menu changes daily, but you can expect a range of small bites such as oysters, bay scallops or charcuterie from McConnells own butcher, Meatsmith. Larger plates might include pasta or porterhouse steak. There will always be plenty of cheese, and maybe a tart or two for dessert. On weekends, Marion opens for breakfast until 11:30am.
Archies All Day
189 Gertrude Street, Fitzroy,03 9417 0066
Archies All Day turns back the clock, but adds a level of refinement foreign to those early 2000s cafes. Here, you can have a burger at 10am, or pop in for a wine or tap beer later in the day. Its the total package. It offers good options for vegetarians and vegans, and a decent amount of gluten-free options. Small dishes, snacks, cheeses and cakes keep you going until after dinner and there are $10 Negronis all day, every day.
Food Delivery
If you feel like eating in, download the Uber eats, Foodora or Deliveroo apps and you can have pretty much any restaurant deliver their food to your door. This is a great service.
Car Parking
As we are in the centre of Fitzroy, parking is a premium, which is why we offer complimentary parking. Unfortunately, all cars do not fit into our car stacker system. Your apartment key will not operate the car stacker unless you have pre-reserved parking. If you have reserved a car park with us, you will receive your car park instructions on arrival. We have height, weight and length restrictions, so please ensure that you provide the exact make and model of your vehicle to reception so we can allocate a park accordingly. Unfortunately, vehicles with tow balls or bull bars are strictly not allowed. Any damage caused to the stacker by a guest, will be charged accordingly.
If your vehicle does not fit our stacker, there is alternative parking nearby! You can find non-permitted parking around our street, however, please ensure you read the restriction signs. There is a public car park located at 75 Rose St, Fitzroy VIC 3065. Whilst we have no issues with car security, we do suggest that you put away anything that may be of interest to someone else.

Let us know your thoughts
We love to hear feedback! On departure, you will receive an email from Saltwater Properties. If you have a spare few minutes, we would really appreciate you taking the time to answer our short questions and providing good/constructive feedback. The only way we can improve is to know what you want/need when staying with us - Thanks!
Again, thank you for choosing to stay with us and we look forward to seeing you again soon.